Victoria's Day is about a girl at nursery school.
She happens to be our daughter and happens to have Down's syndrome.
It is published by Frances Lincoln Children's Books
ISBN 978-1-84507-571-2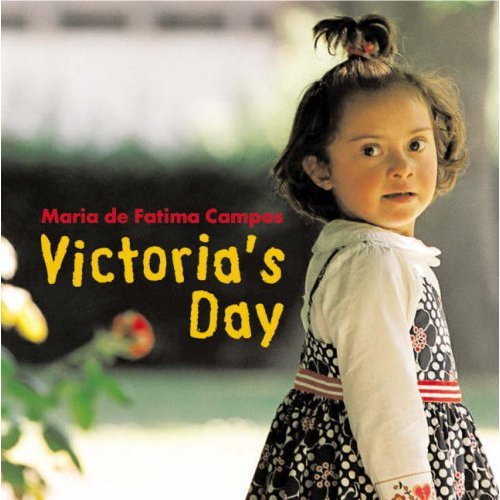 Available from your local book shop or from Waterstones at
http://www.waterstones.com/waterstonesweb/displayProductDetails.do?sku=5629030

or Amazon
http://www.amazon.co.uk/gp/product/1845075714/ref=pe_snp_714

Here is the review from School Librarian magazine by Angela Redfern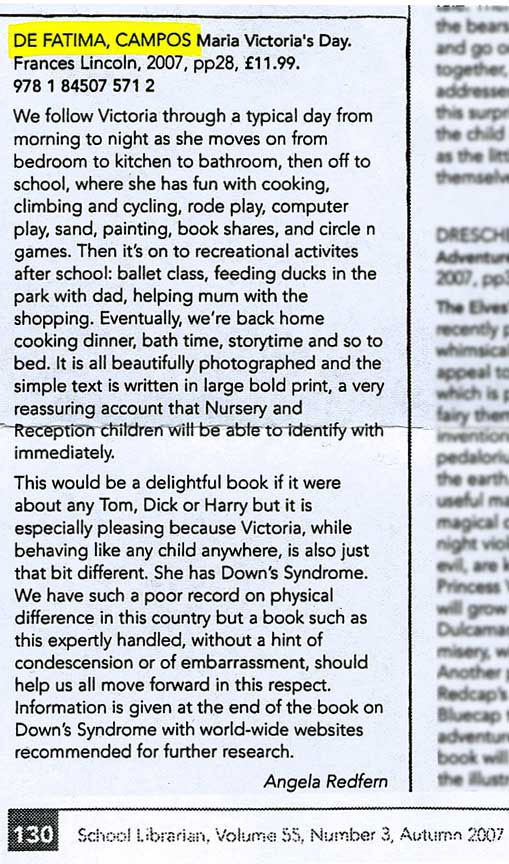 Here are what the local papers say about it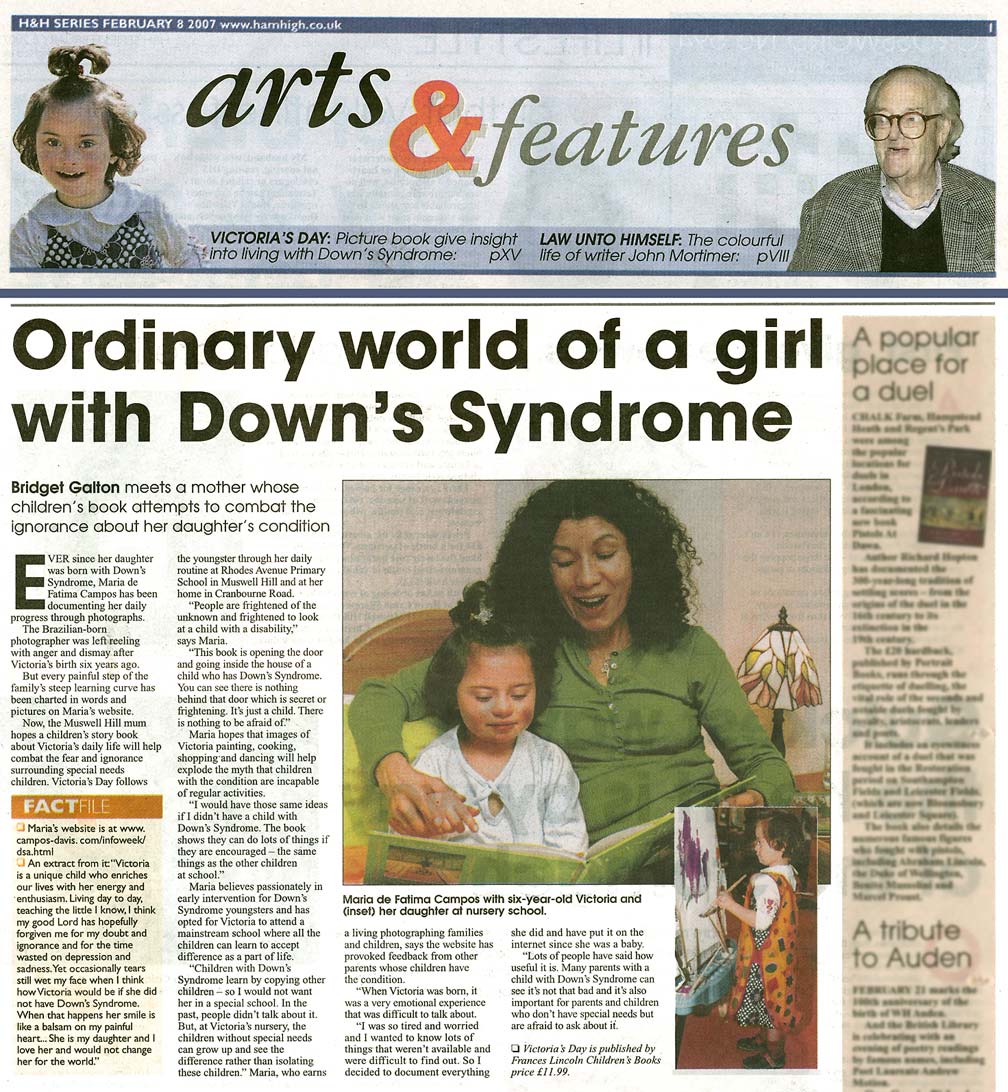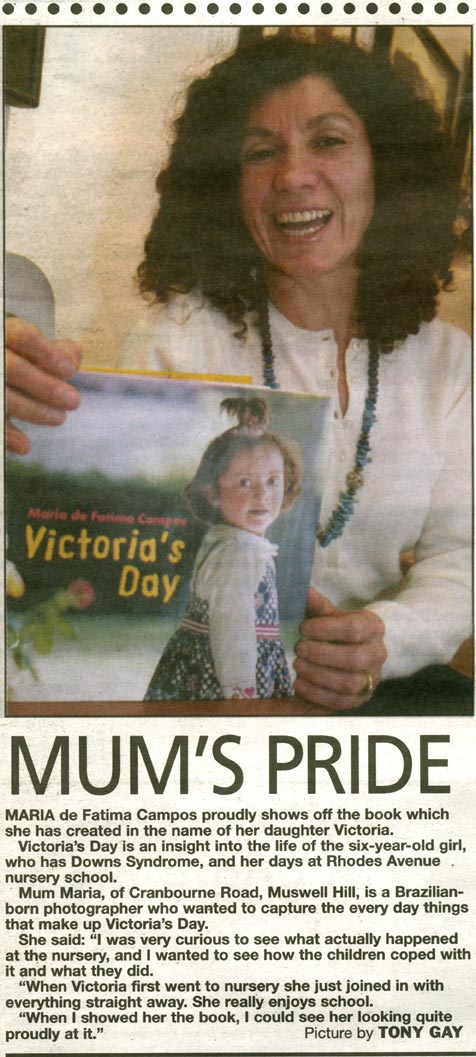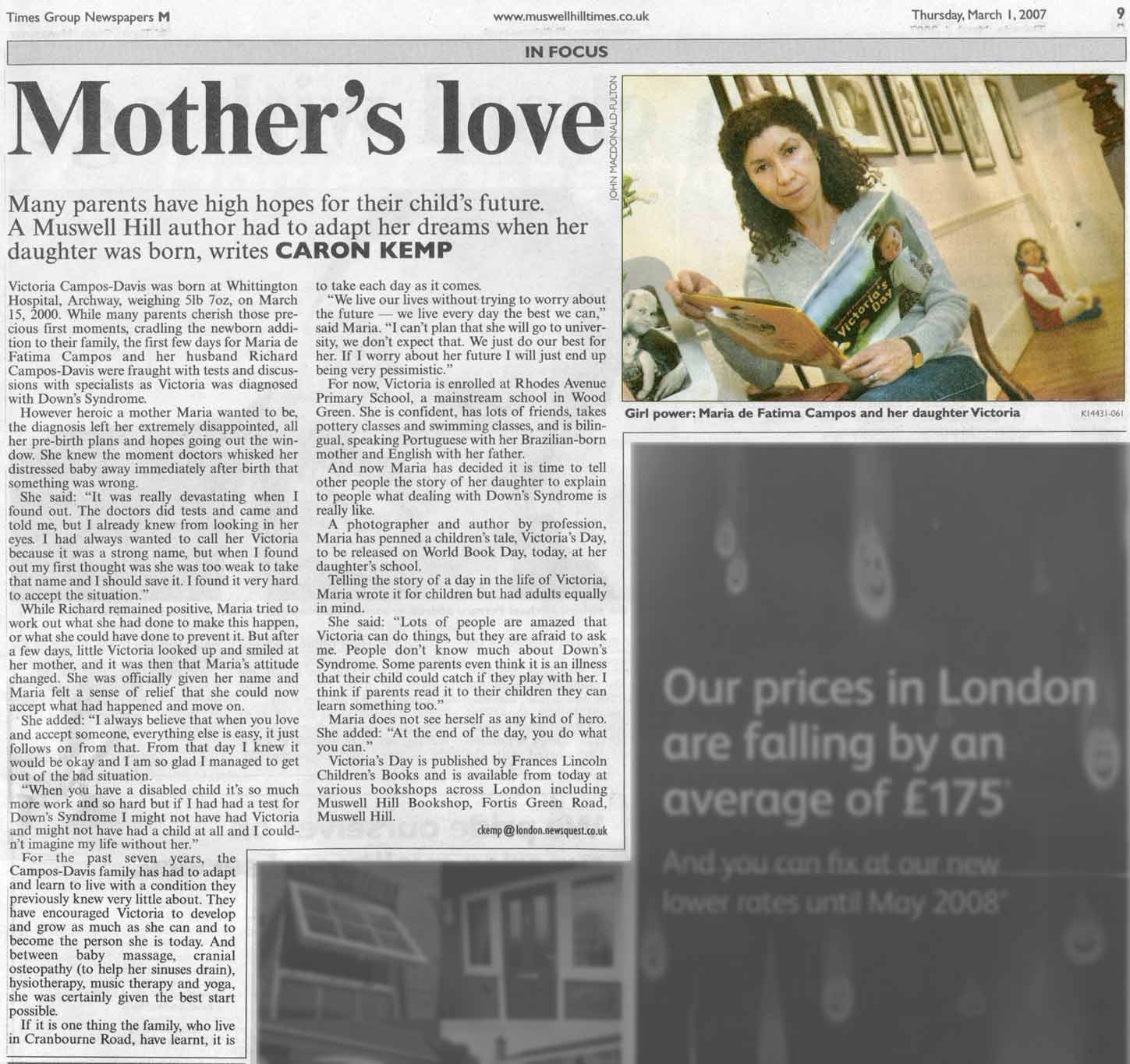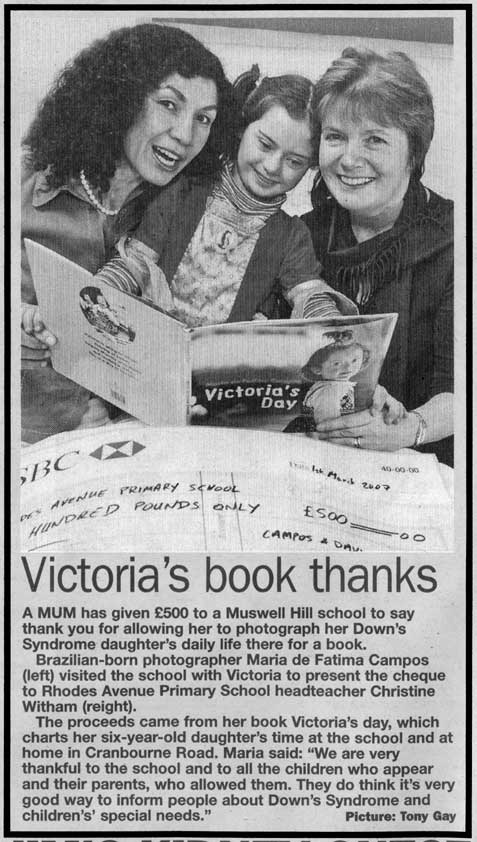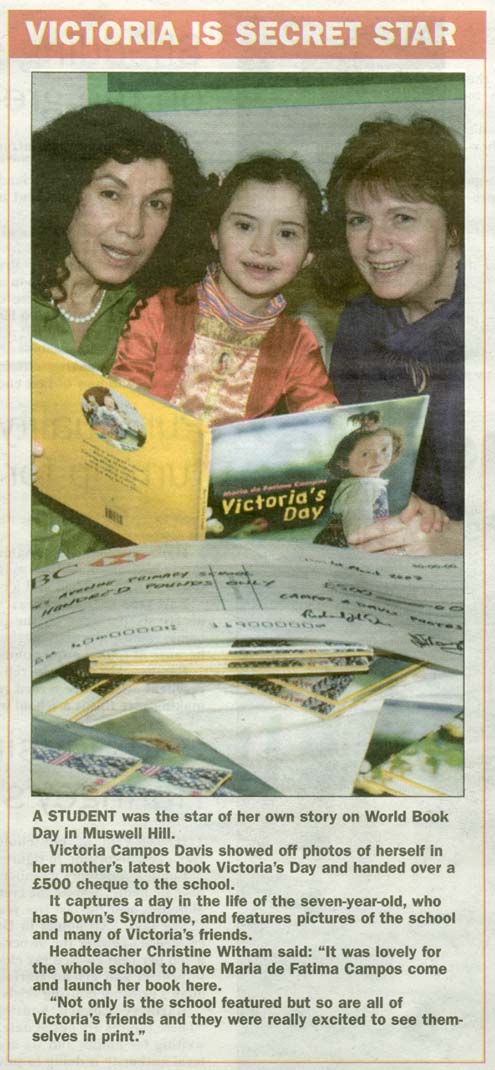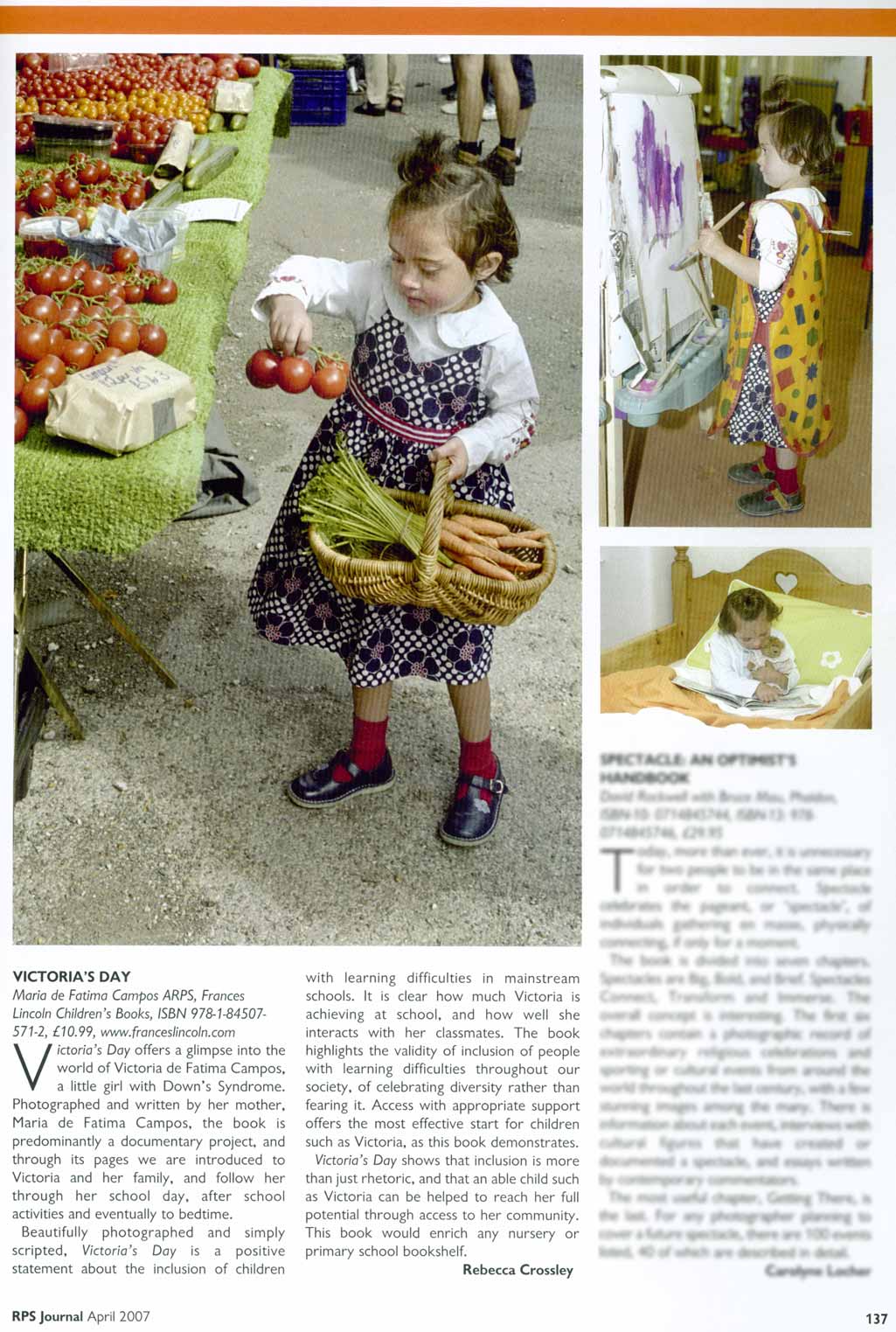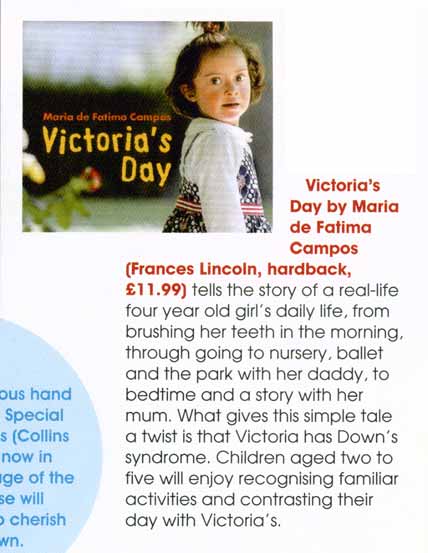 Right Start magazine Mar07


Link to the Down's Syndrome London web site
---
BRAZIL IN MIND EXHIBITION
at THE MUSEUM of LONDON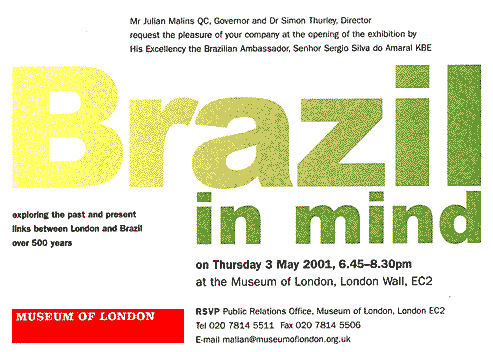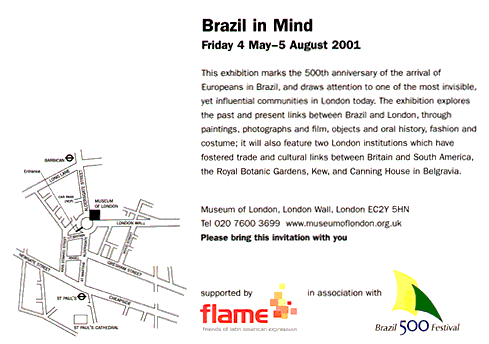 As part of the celebrations of Brazil's 500 anniversary The Museum of London exhibited Brazil in Mind. Maria was commissioned to photograph seven members of the Brazilian community who live and work in London.
The exhibition explored the past and present links between Brazil and London. It ran from Friday 4th May - 5 August 2001.
More information from the Museum web site: www.museumoflondon.org.uk
---
Recent published work


These are four of a series of publicity sheets prepared by us for Jarvis Construction to show the extent of a £54m town centre redevelopment project at Lewisham, South London.
We called in the designer Franco Chen to layout the design, and hired cherry picker elevation platforms to obtain arial views overlooking the differnt aspects of the work.
| | |
| --- | --- |
| | |
| Giant stone sculpture of Portland stone dominates one side of the site. | Diversion of a local river and creation of a new park area shot from a cherry picker. |
| | |
| Urban by-pass around the centre used Portland stone as a central reservation. | The new market area has vandal and graffiti proof paveing stones, and new lamps.. |
---
An article asked for by the Royal Photographic Society of Great Britain about travel photography featured some of our pictures of Brazil with information about how to pre-plan a trip to remote places.
If you would like to have a copy of the article please email us.



---
An article about Richard's travel photography in Japan published in IrisFoto magazine, the leading photographic imaging publication in Brazil, explaing what Japan is like through the lens of an English photographer.
---
Click here to see the pictures just added to the
Casa Taiguara page
about the street kids shelter project in Sao Paulo.
WORKSHOPS
We hold workshops covering many
aspects of the creation of liquid
silver emulsion photographs.
Please contact us for details.
Tel/fax + 44 (0) 20 8 883 8638
email: work@campos-davis.com